The Absolute Answer for Your Hearing Needs
Do you suspect you have hearing loss? You may and not even know it. Hearing loss can develop slowly over years, so you don't notice the subtle sounds in speech and in your environment that you are missing. However, just because you aren't aware of your hearing loss, doesn't mean it isn't affecting you every day. Unaddressed hearing loss can affect the quality of your relationships and your emotional regulation, causing chronic depression, social anxiety, and loneliness. In addition, research has found that unaddressed hearing loss can affect your earnings in the workplace, cognitive health leading to higher rates of dementia later in life as well as tripling the risk of falls and accidents leading to hospitalizations.
Don't let hearing loss affect the quality of your life. At Absolute Audio we are here to offer compressive solutions to help you find the best fit and sound quality to support you.
Hours
Monday - Friday:
9:00am - 5:00pm
Send us a message!
Please use the form to contact us and we will be in touch with you within 1-2 business days. We look forward to hearing from you!
---
Always get great care at Absolute Audio. Aaron takes great care of my hearing aids and listens to any concerns that I have.
Visiting out of town and my hearing aid stopped working. Called and immediately got an appointment. They fixed me right up and I was back in business. The office stay were excellent! Highly recommend!
Prompt, pleasant, and easy to talk to.
Cordial varying and professional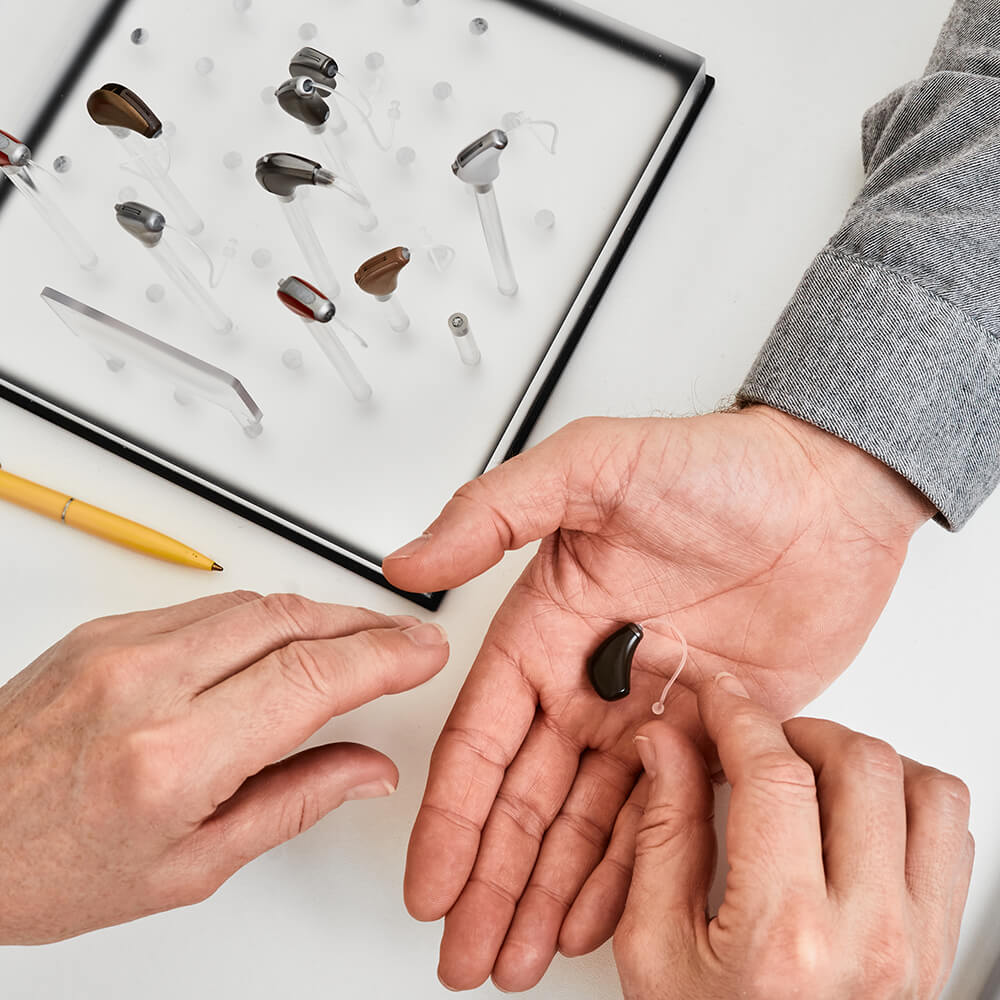 Find Your Perfect Hearing Aids at Absolute Audio in Jerseyville
We know that you have a lot of options when it comes to addressing hearing issues. However, when you choose us at Absolute Audio, we offer not only years of experience in testing, diagnosing, and addressing hearing and balance issues, but we have a wide understanding of what is available in the vast hearing aids market.
In just the past 20 years, hearing aids have come a long way, offering more styles, features, and fashion options than ever before. This means it is easier than ever before to find the best fit and function to support your individual lifestyle. However, it is all too common for people to feel overwhelmed by the amount of options.
When you work with Absolute Audio, we will ask you a series of questions to get to know you better. We will ask questions to help us understand how you like to listen to sound at work and for recreation. This gives us the ability to understand in what parts of your life you may be putting your hearing health at risk as well as giving us a better idea of what features and styles of hearing aids will work best for you.
Hearing Aids
The most common styles of hearing aids include:
Behind-the-ear (BTE): The most popular style as it supports every degree of hearing loss while providing ease for those with dexterity or vision issues due to their accessible size.
In-the-ear (ITE): Small, easy to adjust and custom made for you providing comfort for those with so mild to severe hearing loss.
In-the-canal (ITC): These custom hearing aids rest comfortably in lower part of your ear canal providing disrete and superior amplification for those with mild to mildly severe hearing loss.
Completely-in-the-canal (CIC): This hearing aid is so small it fits deep in the ear canal where nearly no one will know you are wearing them. For mild to moderate hearing loss.

In addition to styles, today hearing aids offer a wide selection of advanced features and cutting-edge audio technology to enhance your hearing experience. This can include:
Noise reduction
Feedback cancellation
Directional microphones to follow conversations in a crowded room
Rechargeable batteries
Water resistance
Music listening settings
Bluetooth connectivity
Telecoil
Don't let the options overwhelm you. We can help you weed through the options to find the best solutions to support your hearing every day at home, at work and when on the go.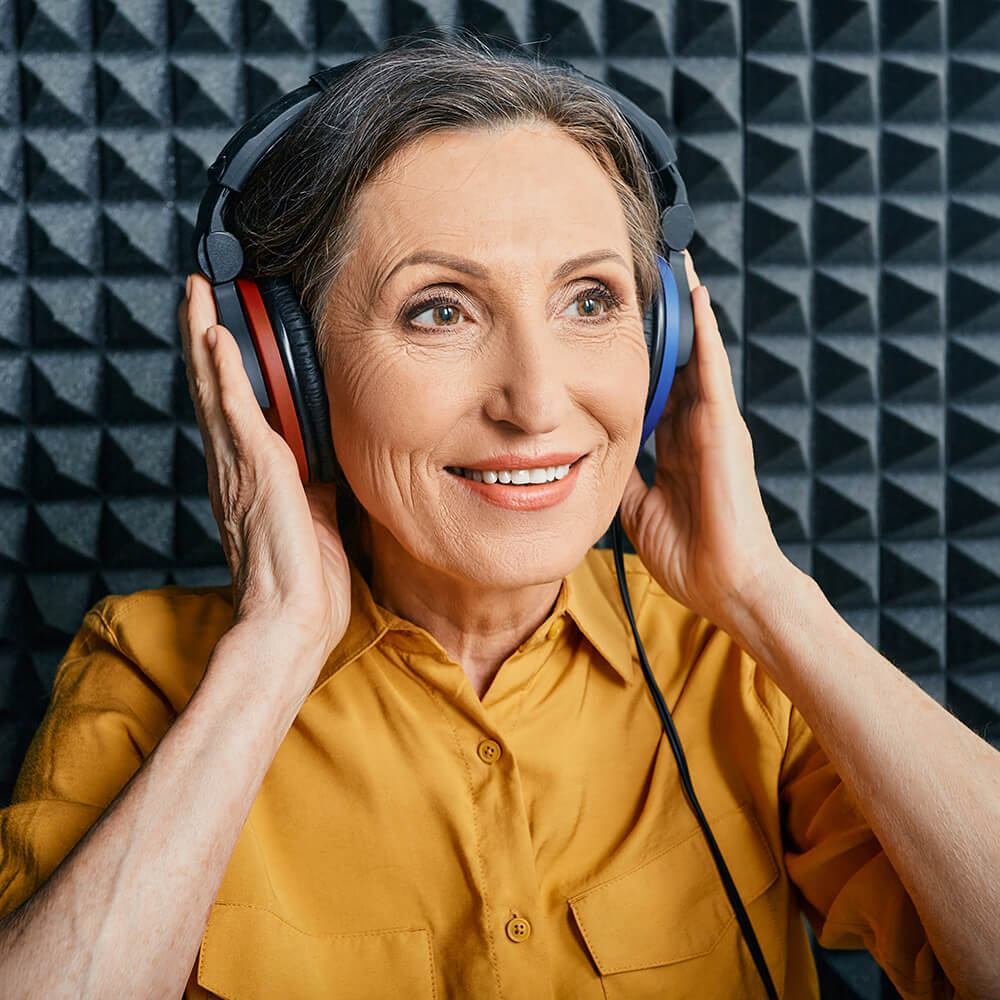 Services
At Absolute Audio offer a wide range of services to make sure every aspect of your hearing health is addressed. Our services include:
Comprehensive Testing for Hearing Loss – We can help determine the quietest and loudest sounds you can hear as well as tests to help us determine your ability to hear speech and sounds in noisy environments.
Hearing Aids/Assistive Technology – We know there are a lot of options out there. However, we understand the market and can offer the best solutions for your particular hearing needs.
Dizziness and Balance – Hearing and balance issues are often related. We can evaluate and treat balance issues connected to issues with the inner ear.
Hearing Loss Prevention – Hearing loss is a progressive condition which can get worse overtime. We can consult and offer options to help you preserve your existing hearing ability for the future.
Tinnitus – 90 percent of people with tinnitus also have hearing loss. We have many options to help you treat and live with persistent ringing in the ears.
Book an Appointment
Unaddressed hearing loss can progress to a wide range of very serious symptoms. The sooner you address a hearing loss the better for your emotional, cognitive and physical health. Contact us today to address your hearing loss now!
Book an Appointment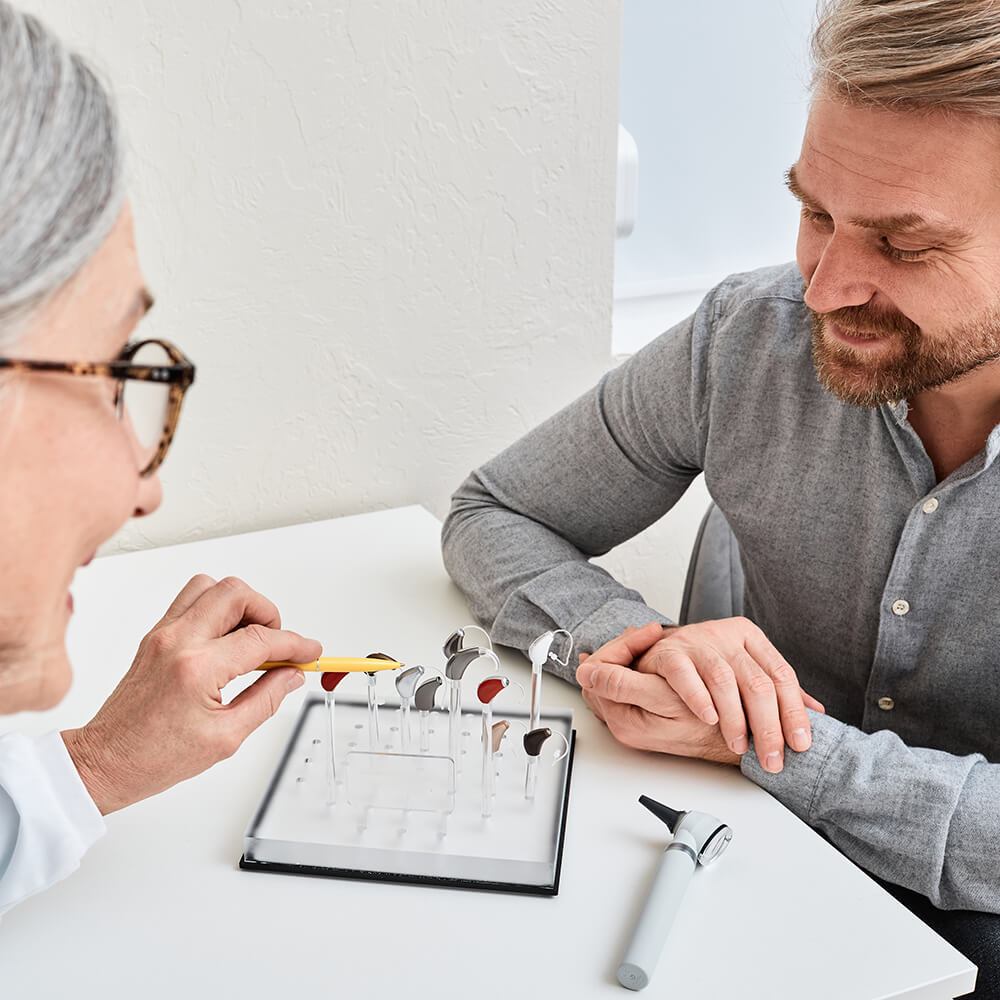 Hearing Aids in Jerseyville to Fit Anybody's Ears
Everyone's ears are just a little different, and it can be difficult to find the right fit for you. When you work with us at Absolute Audio, we will be with you every step of the way on your hearing journey, until you find the absolute best fit and sound quality just for you!
Absolute Best Hearing Testing in Jerseyville
We know you have options. However, when you choose us we will make sure you get the absolute best in hearing support and amplification. To find out more contact us today!
4 locations to serve you!
---
Jerseyville, IL
The culture of Jerseyville looks back to a thriving history while also considering where it can move in the future. With four sites listed on the National Register of Historic Places, including the Jersey County Courthouse, the Jerseyville Downtown Historic District, the Col. William H. Fulkerson Farmstead, and the Fisher-Chapman Farmstead, residents and visitors from the region can explore the past of Jerseyville from a number of different perspectives. Although the past has much to offer in terms of historical value, the natural environment does as well. The Jerseyville Parks and Recreation Department maintains and operates six parks: Dolan Park, Easton Park, Lions Club Park, Northmoor Park, Whittman Park, and the Rotary Club Centennial Park. Each of these lovely locations is a nice place to observe the natural landscape and to visit with Jerseyville residents to get an idea what the town is all about. If your want to make the most of your opportunity to get to know Jerseyville and its residents, don't delay to get a hearing test. With your ears functioning to the best of their assisted ability with hearing aids, you will not miss a beat in the charming town of Jerseyville.