Hearing Aids in Carlinville, IL
The Perfect Solution for Your Hearing Needs
If you suspect you've been struggling with hearing loss, then you know how challenging it can be. It can make it not only hard to connect to the people in your life, but affect mood, cognitive health, mobility, and ability to safely navigate the world. Despite the many proven benefits of life with hearing aids, it can often be a long road to finally taking the step towards investing in your hearing health, but we assure you that on the other side is a life with more ability to participate in everyday conversations, increased confidence and a likeliness to pursue just about anything you put your mind to.
Hours
Monday - Friday
9:00am - 5:00pm
Send us a message!
Please use the form to contact us and we will be in touch with you within 1-2 business days. We look forward to hearing from you!
---
Great place. Very happy with the service I received!
Excellent service! Excellent products! Very friendly and easy to work with! Highly recommend!
Aaron quickly cleaned, replaced parts and adjusted my hearing aids. Great job! Gary Babbs
World class customer service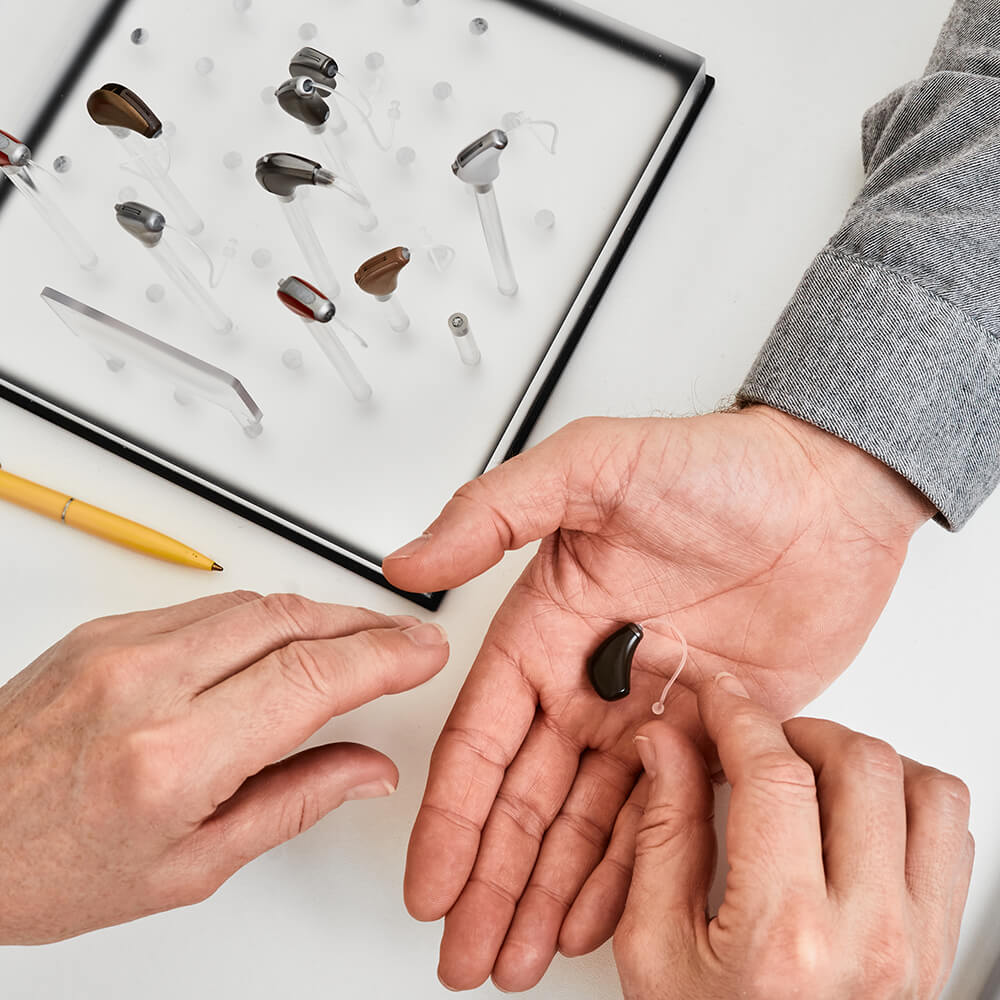 Find Your Perfect Hearing Aids at Absolute Audio in Jerseyville
We know that you have a lot of options when it comes to addressing hearing issues. However, when you choose us at Absolute Audio, we offer not only years of experience in testing, diagnosing, and addressing hearing and balance issues, but we have a wide understanding of what is available in the vast hearing aids market.
In just the past 20 years, hearing aids have come a long way, offering more styles, features, and fashion options than ever before. This means it is easier than ever before to find the best fit and function to support your individual lifestyle. However, it is all too common for people to feel overwhelmed by the amount of options.
When you work with Absolute Audio, we will ask you a series of questions to get to know you better. We will ask questions to help us understand how you like to listen to sound at work and for recreation. This gives us the ability to understand in what parts of your life you may be putting your hearing health at risk as well as giving us a better idea of what features and styles of hearing aids will work best for you.
Hearing Aids
The most common styles of hearing aids include:
Behind-the-ear (BTE): The most popular style as it supports every degree of hearing loss while providing ease for those with dexterity or vision issues due to their accessible size.
In-the-ear (ITE): Small, easy to adjust and custom made for you providing comfort for those with so mild to severe hearing loss.
In-the-canal (ITC): These custom hearing aids rest comfortably in lower part of your ear canal providing disrete and superior amplification for those with mild to mildly severe hearing loss.
Completely-in-the-canal (CIC): This hearing aid is so small it fits deep in the ear canal where nearly no one will know you are wearing them. For mild to moderate hearing loss.

In addition to styles, today hearing aids offer a wide selection of advanced features and cutting-edge audio technology to enhance your hearing experience. This can include:
Noise reduction
Feedback cancellation
Directional microphones to follow conversations in a crowded room
Rechargeable batteries
Water resistance
Music listening settings
Bluetooth connectivity
Telecoil
Don't let the options overwhelm you. We can help you weed through the options to find the best solutions to support your hearing every day at home, at work and when on the go.
Services
First you have to find the right hearing aids for you, and this can be a bigger challenge than many have anticipated. Today there are more styles and features in hearing aids than ever before, designed for a wide range of needs around hearing support and usability. While this level of access is amazing, we hear from many of our clients that the number of options can be overwhelming. The good news is that with Absolute Audio, we are here to help narrow down your options to find the best hearing aids and features for your needs and lifestyle.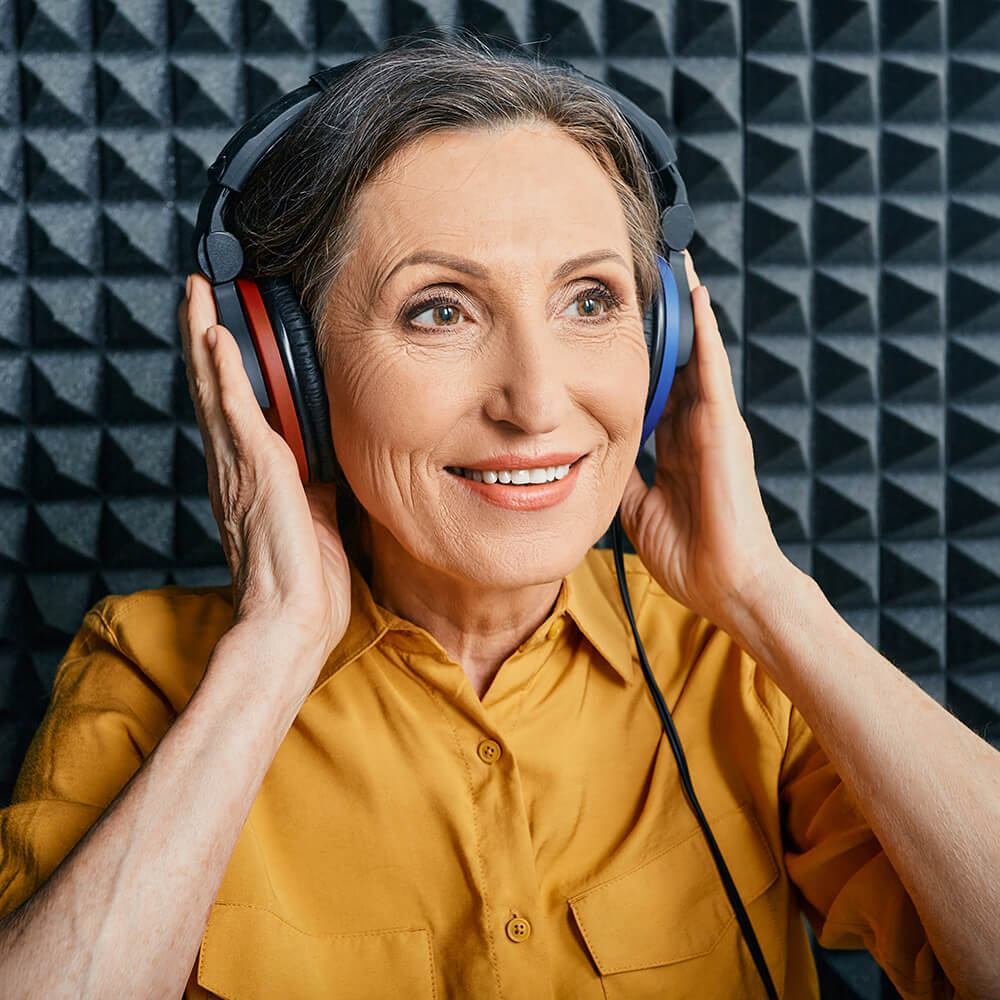 Seek Expert Advice and Support
These days, selecting your hearing aids isn't just about the style of hearing aid, but the many features which continue to come out every year. With innovations in digital micro processing, the level of amplification offered continues to amaze users with enhanced hearing and features such as background canceling in noisy settings, directional microphones to follow conversations in crowded rooms, and tinnitus masking features. Many also enjoy wind cancelation features, music listening enhancement, rechargeable batteries, and Bluetooth technology. However, these added features can add up to high price points. Of course, you want them all, but we are here to make sure you find the best hearing aids for your lifestyle that can also fit in your budget. We will ask you a series of questions when you first visit us to understand your listening habits and lifestyle. Based on your answers we are not only able to understand factors that may be causing hearing loss in your life, but which features will best support you in a higher quality of life.
Book an Appointment
People often go years from the time they suspect they have a hearing loss till the time they seek treatment. However, unaddressed hearing loss can build up into serious emotional, cognitive, and physical health risks which are difficult or impossible to reverse. Take control of your life today by investing in your hearing health! Contact us to schedule a hearing exam today!
Book an Appointment
Hearing Aids in Carlinville to Fit Anybody's Ears
Ideally you will be wearing your hearing aids from the moment you wake till the time you go to sleep for years to come. Therefore, we are committed to finding the highest levels of comfort in the fit of your hearing aids. A secure fit in your hearing aids not only means ease and comfort in your everyday wear, but superior sound quality. Despite our years of experience, we still don't always find the perfect fit the first time. There are many aspects to account for in fit, such as the weight, ease of insertion and removal, and the presence of any special features, such as moisture-resistant coatings, which can contribute to long-term comfort and durability. However, we are committed to working with you until you have the absolute best fit for everyday comfort and sound quality.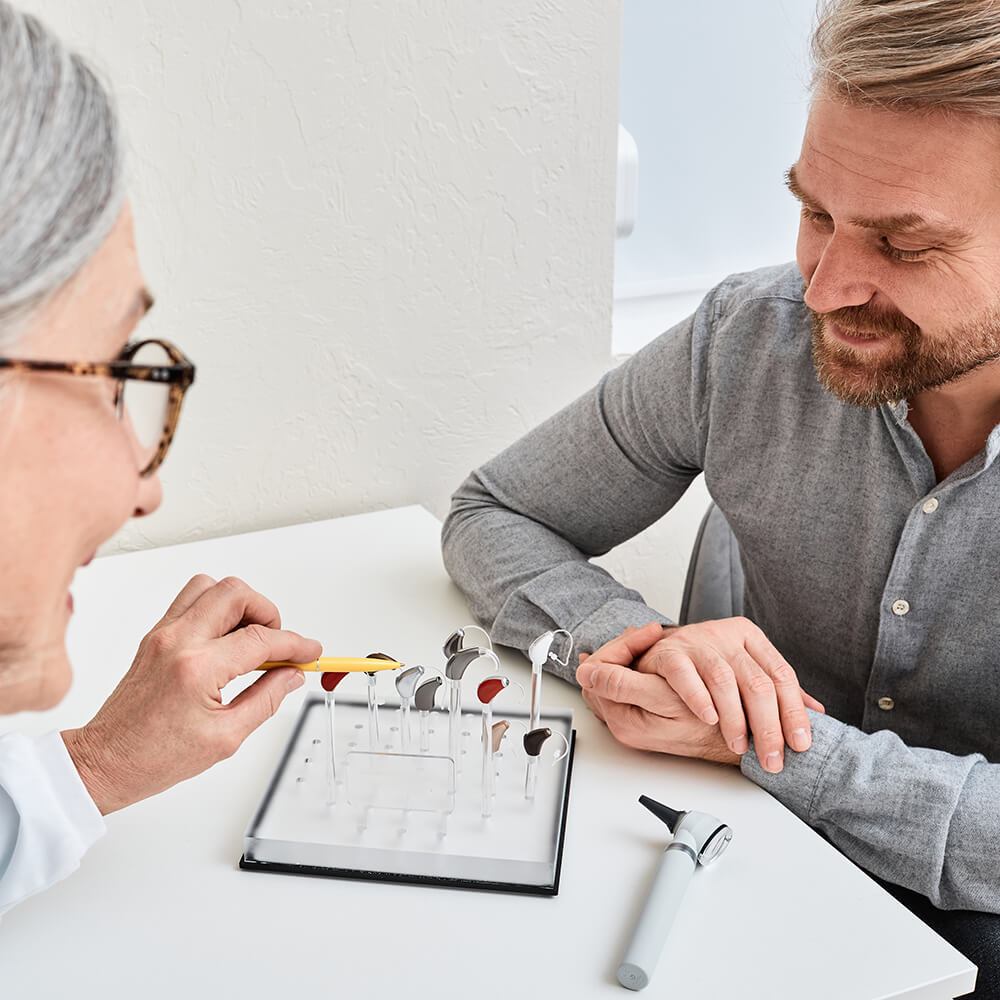 Absolute Best Hearing Testing in Carlinville
Before you can choose your hearing aids, we first perform a series of hearing exams to ascertain the quietest sounds you can detect and what specific tones and sounds you struggle to hear. We also test for your ability to hear speech and sounds in noisy settings. The results of your hearing exam not only let us know your degree of hearing loss but give us vital information to help you narrow down the best style for you. While many enjoy the discreet and small size of ITC (in the ear canal) hearing aids or CIC (completely in the canal), they often don't have the ability to house a battery that gives them the amplification power they require for those with more severe degrees of hearing loss. The good news is that we will be there every step of the way to make sure you have the right hearing aids based on your hearing ability.
4 locations to serve you!
---
About Carlinville, IL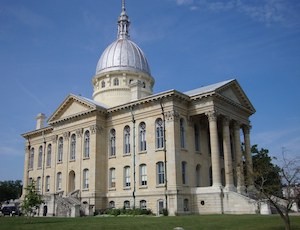 Historic Carlinville offers a number of attractions that make it a welcoming town for not only its residents but also those in the surrounding area. The Macoupin County Historical Society hosts a festival each Memorial Day and again in the fall to commemorate the rich history of Carlinville, including Anderson Mansion, and the festival is complete with local crafts, antique machinery, and tours of the historic sites. Beaver Dam State Park is another local attraction that draws visitors from Carlinville and the surrounding region. Located in Macoupin County 7 miles southwest of Carlinville and situated in an oak/hickory woodland, Beaver Dam State Park offers a variety of recreational opportunities on its 750 acres, including fishing, picnicking, hiking, and tent and trailer camping. The many residents of the town will understand how important it is to enjoy these events to the utmost, and these social events require all the senses to be at their best. Be sure to get your hearing test right away to be best equipped to take part in the rich lifestyle of Carlinville and the surrounding area.