The Absolute Answer for Your Hearing Needs
Hearing loss affects one in eight people in the United States, and while the risk becomes higher as we age, it can develop at any age. If you've been struggling to hear more and more often, then come to us for solutions. We offer comprehensive hearing screenings and exams, as well as years of expert experience.
Hours
Monday - Friday:
9:00am - 5:00pm
Send us a message!
Please use the form to contact us and we will be in touch with you within 1-2 business days. We look forward to hearing from you!
---
Life changer. Thank you for great customer service.
Just started going so far thy have been helpful.
"When I finally chose to confront my hearing loss I went to Absolute Audio and was totally happy with my decision. Aaron and his staff have accomplished an outstanding job of restoring my hearing through the use of these hearing aid's. They worked seamles
..."
View All
sly with my insurance company to ensure that I received the best deal for my situation."
I love my hearing aids especially the Bluetooth feature. I can get phone calls, music and podcasts zapped right into my brain. I love it. Aaron's a wizard. 👍👍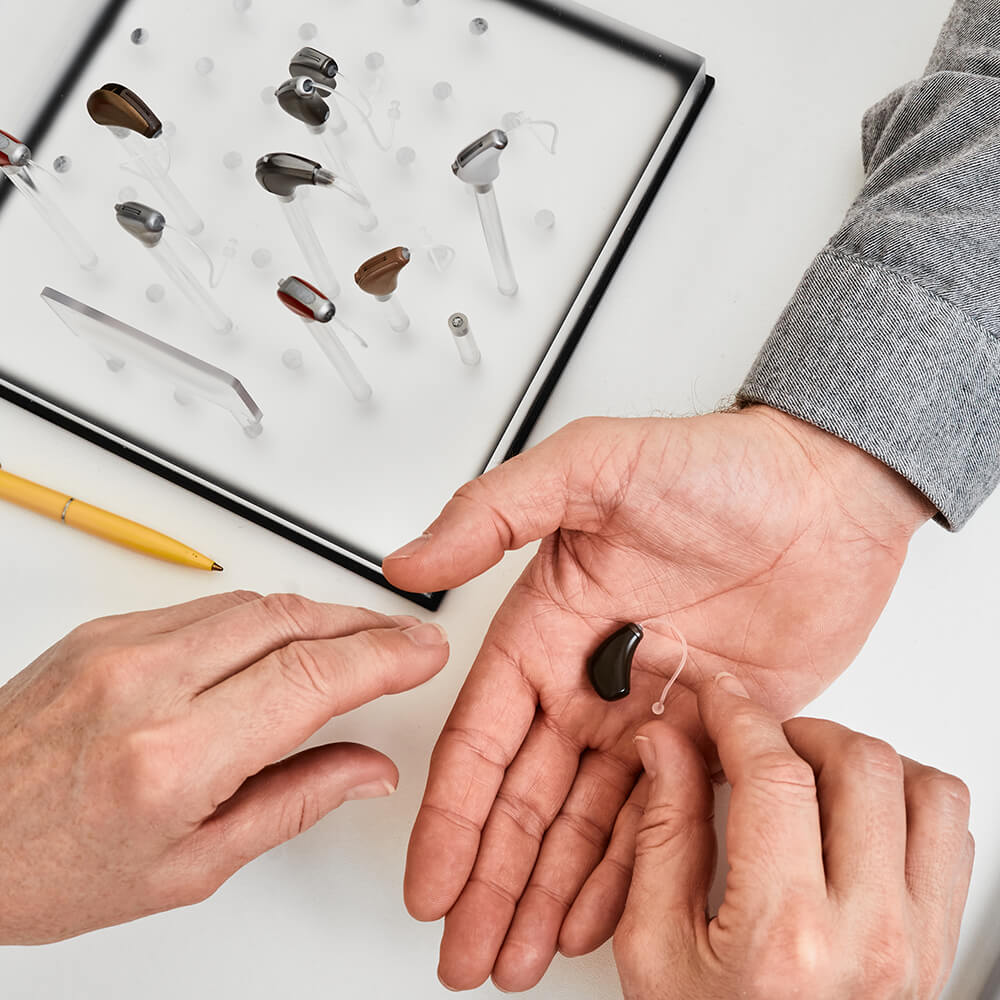 Find Your Perfect Hearing Aids at Absolute Audio in Godfrey
In the past 20 years, hearing aids have come a long way, offering a wide array of styles, features, and fashion. While this gives us the ability to finetune your hearing enhancement specifically for you, it also creates a lot of options. We know that the number of styles and features can feel overwhelming at times. However, the good news is that we are here to help.
When you visit us for a hearing consultation, we ask you a series of questions. While these questions are designed to help us get to know you better, they are also meant to help us understand your listening habits and lifestyle so we can understand which hearing aids styles and features may work best for you. Today there are hearing aids so discreet no one will be able to spot them. While some people enjoy the small size and confidential nature of these styles, for those of us with more moderate to severe hearing they still can not provide enough power to truly enhance your hearing to the degree you need. At Absolute Audio we are here to navigate all your hearing issues and find the best possible hearing aids for you!
Hearing Aids
The most common styles of hearing aids include behind-the-ear (BTE), in-the-ear (ITE), and in-the-canal (ITC) or completely-in-the-canal (CIC) devices. BTE devices are perhaps the most common due to their versatility as they are suitable for different degrees of hearing loss, accommodating dexterity and vision issues. Meanwhile, people with less severe hearing loss find that ITE and ITC/CIC options offer more discreet solutions for a life on the go.

In addition to styles, today hearing aids offer a wide selection of advanced features and cutting-edge audio technology to enhance your hearing experience. This can include, as noise reduction, feedback cancellation, directional microphones, rechargeable batteries, water resistance and wireless connectivity options. We can help you choose the best features which will support your hearing every day at work and for recreation.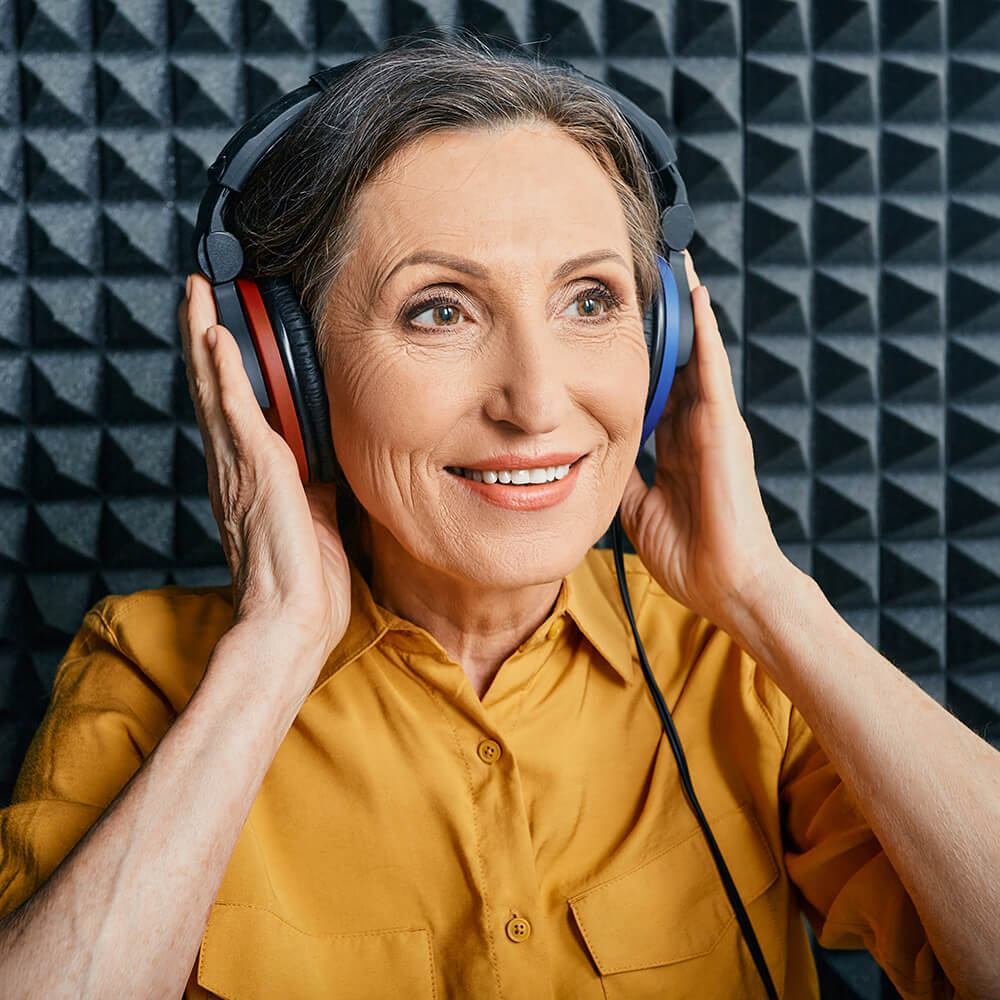 Services
At Absolute Audio we offer compressive services to address a wide range of needs around hearing and balance issues which include:
Testing for Hearing Loss – We offer a wide range of tests including the ability to determine your hearing threshold (the quietest sounds you can hear) as well as a test to determine your ability to hear in noise.
Hearing Aids/Assistive Technology – We can help you select and custom-fit the best hearing aids and assistive technology for you.
Dizziness and Balance – Evaluate and treat balance problems
Hearing Loss Prevention –Many times your lifestyle choices are affecting your ability to hear. We can show you how to protect your hearing every day.
Tinnitus – 90 percent of people with tinnitus also have hearing loss. We have many options to help you treat and live with persistent ringing in the ears.
Book an Appointment
The longer you live with untreated hearing loss the worse symptoms can become. Don't wait another day! Contact us now!
Book an Appointment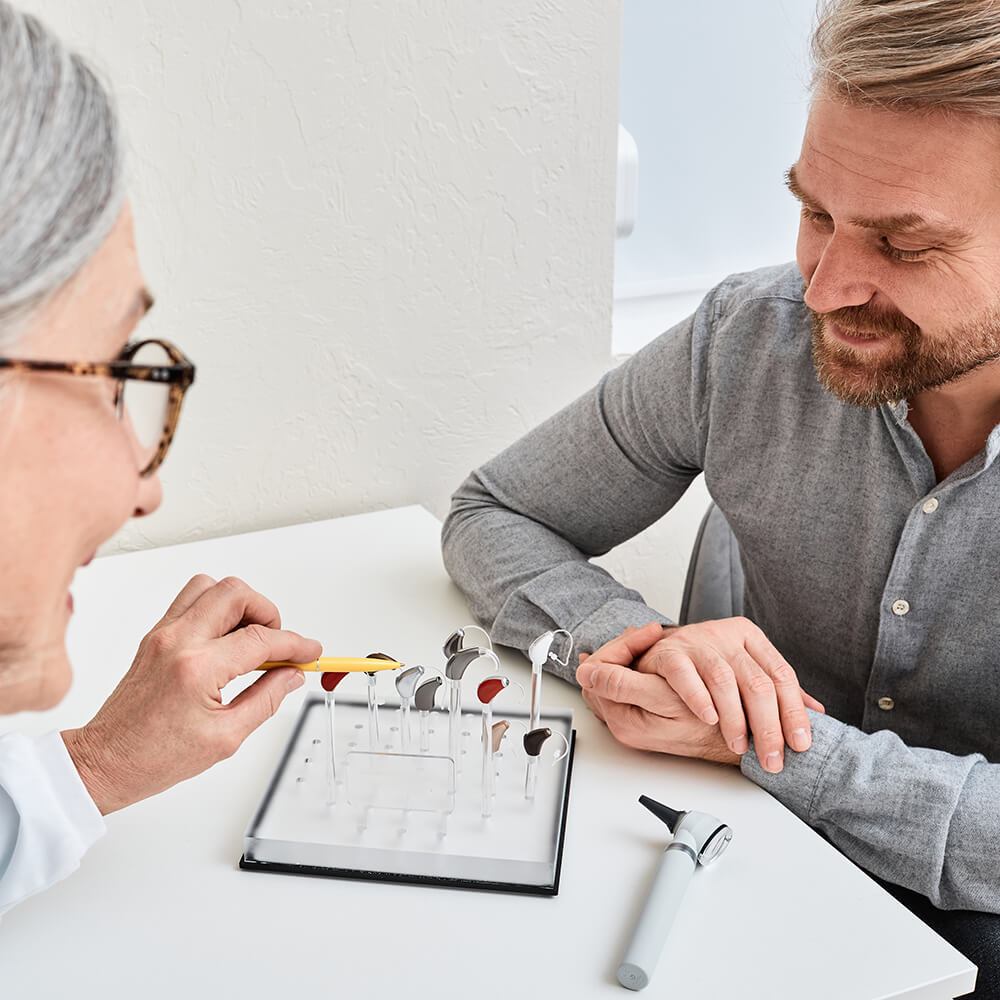 Hearing Aids in Godfrey to Fit Anybody's Ears
At Absolute Audio, we understand that you will be wearing your hearing aids every day. This means they need to fit right. A perfect fitted hearing aid is a little different for everyone and it may take time to find the right fit for you. The good news is that you don't have to get frustrated. We are always available for follow up appointments, in person, over the phone or online, until we achieve the most perfect fit for you offering you superior comfort and sound quality for years to come.
Absolute Best Hearing Testing in Godfrey
We know you have options. However, when you choose us, you are choosing a team of audiologists and hearing aid specialists who truly have passion for addressing hearing loss. We will not rest until you have the best fit and sound quality to help you navigate everyday conversations, improving the strength of your relationships, boosting confidence, and improving your overall quality of life. Join our family by scheduling a hearing screening and exam with us today.
4 locations to serve you!
---
Godfrey, IL
With a rich history, Godfrey, Illinois looks to the past for wisdom but fixes its gaze ahead to the future. Don't be mistaken by the motto "You can see your future from here," thinking that Godfrey residents forget where they came from. The first recorded settlers to Godfrey were Reverend Jacob Lurton and his wife, the former Sarah Tuley, who left their longtime home in Louisville, Kentucky in the spring of 1817 to pursue a new life in Godfrey with their own settlement. Several tragic events afflicted the Godfrey area in 1837, but the Village bounced back, ready to thrive. Although the Village was not incorporated until 1991, it is now a large community spanning 36 square miles and nearly 20,000 residents. Rich in agriculture and expecting future growth, ongoing highway projects keep Godfrey at the center of the region as a crossroads and a hub. Those who are fortunate enough to take up residents in Godfrey will know how beautiful life can be, but full engagement with town life requires all the senses. Make an appointment today for a hearing test to make sure you are capturing as much of the rich town life as possible!